The prerequisites
for belt crossings
The Kyokushin Nakamura Karate Federation has its own belt system, similar to other Kyokushin karate federations. The requirements vary according to the federations, but according to the scheme adopted in Japan.
Thanks to the practice of Katas, karateka will improve its fighting techniques. Performed correctly, katas are an excellent exercise in physical and mental fitness. Several elements are required such as balance, coordination, breathing, concentration and movement.
The Kata embodies the idea of < Renma' or "polishing. > With regular practice, Kata's movements become more and more precise and effective. A higher level of learning can be achieved when Kata is so rooted in the subconscious that no conscious attention is needed, what zen masters call Mushin (empty spirit).
Sosai felt that it was better to master a single Kata than to learn several in a superficial way.
The practice of traditional Kata is also a way for karateka to respect the origin and history of Kyokushin karate and martial arts.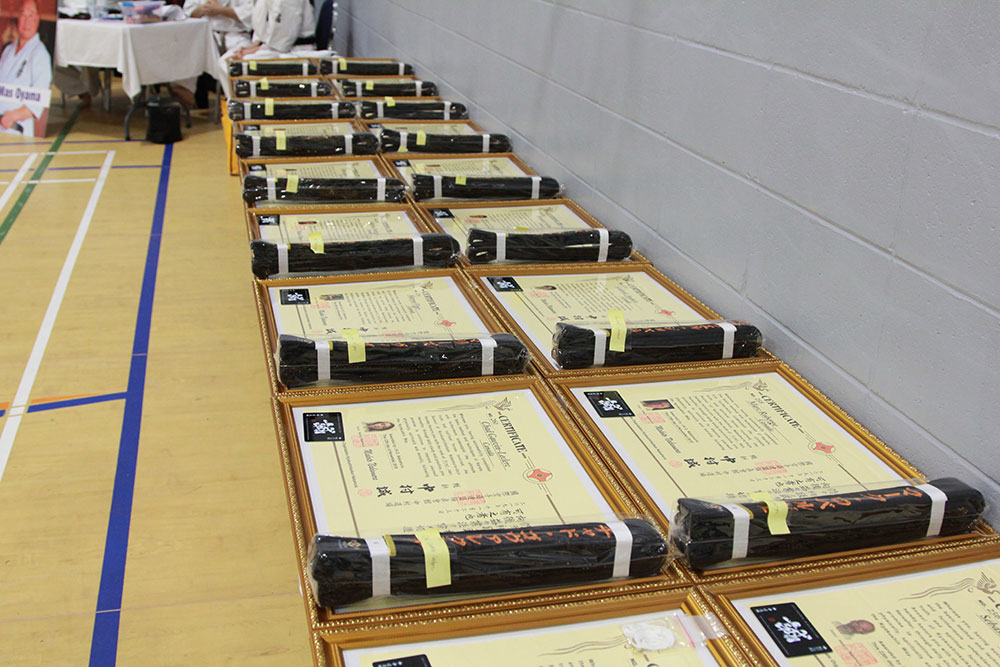 The katas required
by belt level
White in Orange
Taikyoku sono ichi Taikyoku sono ichi ura Taikyoku sono ni Taikyoku sono ni ura Sokugi sono ichi
Orange to Blue
Taikyoku sono san Taikyoku sono san ura Pinan sono ichi Pinan sono ichi ura Sokugi sono ni
Blue to yellow
Ichigai kata
Pinan sono ni
Pinan sono ni ura
Sokugi sono san
——
Yellow to Green
Pinan sono san
Pinan sono san ura
Pinan sono yon
Pinan sono yon ura
Sanchin kata
Bo no kata kihon sono ichi
Green in Brown
Hiji kata
Pinan sono go
Pinan sono go ura
Happo-no kuzushi (the first 8 accounts)
Tonfa no kata
Tekki sono ichi
Brown in Shodan
Gekisai Dai
Gekisai Sho
Scion Bo
Bassai Dai
Happo-no kuzushi (the first 16 accounts)
——
Shodan to Nidan
Tsuki No Kata
Yantsu
Tensho
Saiha
Tekki sono ni
Happo-no kuzushi (the 32 accounts)
Nidan to Sandan
Seienchin
Seipai
Kanku
Ushiro Bo
Tekki sono san
——
Sandan in Yondan
Taizen kata
Sokei
Garyu
Sushiho
——
——
Name and meaning
Kyokushin katas
Taikyoku (1, 2, 3), created by Gishin Funakoshi.
The Ultimate Action.
Sokugi (1, 2, 3), created by Mas Oyama in 1980.
Kata kicking.
Ichigai
kata Means the union of mind and will (or one will).
Hiji
kata Kata of attacks especially with elbows.
Pinan/Heian (5), created by Anko Itosu in 1905 (coach
of Gishin Funakoshi) Forms of peace and calm (long peace).
Sanchin no kata, brought by Kanryo Higaonna from China to Okinawa.
Three battles.
Gekisai sho, created by Chojun Miyagi
in 1940 Conquer and occupy with discretion.
Gekisai dai, created by Chojun Miyagi
in 1940 Conquer and occupy with force.
Yantsu, created by
Mas Oyama Maintain purity.
Tsuki no
kata Kata punches.
Seipai
Eighteen hands (6 x 3), 3 – good, bad and peace.
Tensho, created by Chojun Miyagi as a complement to Sanchin.
Palms of upturned hands.
Saiha (saifa), created by
Chojun Miyagi Maximum destruction.
Seienchin
Calm through the storm.
Garyu
Dragon elongated.
Created by Mas Oyama (Garyu was the pseudonym of Mas
Oyama at the beginning of his karate life) Develop a spirit of
humility like a recumbent dragon who has strength, but chooses not to release it.
Kanku
Look at the sky.
Originally, Kushanku, Okinawa in 1756
Kata was chosen by Gishin Funakoshi during his first karate demonstration in Japan in 1922. Kanku is the supreme kata of Kyokushin.
Sushiho
Fifty-four steps.
The evolution of grades
over time
In ancient times, there was only one belt color, the white belt. Over time, with the work, effort and training of the follower, the belt became darker and darker. It was forbidden to wash it out of respect for the work done by the student. In this way, it was possible to distinguish the most advanced students. At some point, the student was taking an exam, which is now equivalent to the pass exam for the black belt grade.
Once this passage was successful, the teacher allowed the student to wash his belt, which became white as originally. A return to the symbolic sources, for the student. In a way, he found a new purity, a new potential to learn other karate principles.
This white belt system, which was soiled and washed, was later abandoned and replaced by the ranks. Established and established in this way, they came to reward and motivate each individual to work harder and harder.
At each level, a distinct belt color was assigned. The color represents a level reached. At each level, several requirements are required.